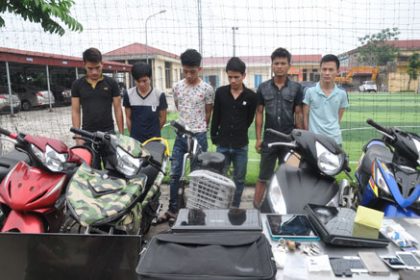 In the beginning of April 2017, in the area of ​​Binh Giang district, Hai Duong province, many households suffered from property intruders who stole property, including families who lost valuable assets.
Typically on the night of April 14, the intruders broke into Doan Ngoc Long's house, in Phu village, Thai Hoc commune, stole a Honda Vision BKS brand motorcycle 29Y-173.47 valued at VND 25 million; Then, on April 18, the intruders broke into Mrs. Dao Thi Hoa's house, in Bang Trai village, Vinh Hong commune, stealing Honda Waves BKS 34B2-349.84 worth about VND 10 million … causing annoyance. among the people. Binh Giang District Police has set up a special case to focus on fighting.
After setting up the project, conducting synchronous professional measures, Binh Giang District Police initially set up a group of 6 people in the district but often wandered, addicted to playing games with many suspicious signs. .
Continuing to monitor, on the night of April 26, Binh Giang District Police Team arrested Vu Van Quan, 30 years old; Dao Van Quy, 28 years old and Pham Van Thuong, 23 years old, were in Thuc Khang commune while breaking into, stealing some assets of Mr. Bui Xuan Dung's house, in Zone 3, Ke Sat town.
At the same time, reconnaissance heads also controlled Le Huy Hung, 27, in Thai Hoa commune; To Hoai Nghia, 24, in Long Xuyen and Pham Van Hinh communes, 21 years old, in Hung Thang commune, brought to the office to verify and clarify.
Through verification, most of these people have had criminal records of property theft, are addicted to the game and from the game they know, connect with each other, gather together to play, day after night to run out of money Rejoin each other to steal. They often walk, or take a taxi to residential areas, find out which houses are loosened (not locked on the floor, or tum), break in, steal property such as motorbikes, electric bicycles, phones, tablet computer, television …
With this tactic, from August 8 to the time of arrest, this group has carried out 16 theft cases in Binh Giang, Cam Giang (Hai Duong) and An Thi district (Hung Yen) with the value of assets up to nearly VND 200 million.
District police also asked people to actively participate in detecting and denouncing criminals; continue to report similar incidents to the investigating agency to consolidate, investigate and handle objects according to the provisions of law.